5 Star French Riviera Campsite, Saint-Raphaël, Var
A luxury campsite on the French Riviera between Cannes and Saint-Tropez
At Esterel Caravaning, you can sip a cocktail in your private hot tub on the terrace of your mobile home, while admiring the sunset over the Esterel mountains.
Make the most of the evening with a romantic dinner in one of our two elegantly decorated restaurants and why not carry on into the night with our Gamesterel arcade room?
What could be more luxurious than a 5,000 m² water park? Our campsite with swimming pools in the Var has among other things 4 slides, a white sandy beach with a reclined palm tree. What could be more luxurious than watching the sun rise over the red rocks of the Esterel mountains, or over the Mediterranean Sea, all in a sea of tranquillity…
This is our guarantee that you'll get to enjoy spending your holidays in a top-of-the-range campsite, in greater comfort than most establishments, plus being able to enjoy an iconic part of the world where the sun and the wide range of activities can thrill any holidaymakers that visit.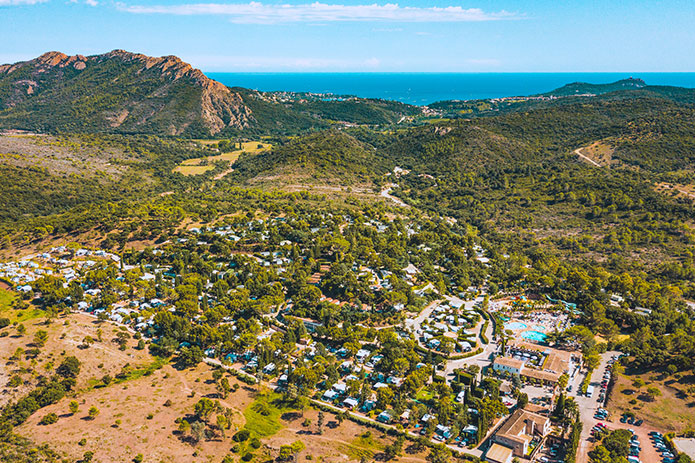 What activities can you do at our 5-star campsite in Saint-Raphaël?
Your day at our luxury campsite can be filled with all kinds of activities, including over 90 hours of free entertainment per week right on your holiday doorstep.
Kids' Activities:
• Have fun in our dedicated kids' indoor paddling pool
• Enjoy the 4 slides and 4 racer slides, as well as 5000 m² of aquatic space
• Swim, dive and play in the 5 pools
Relaxation Activities:
• Sunbathe on our white sandy beach or one of our sunbeds scattered across our water park
• Take advantage of the "Esterel Beach" zen space
• Treat yourself to a massage or body treatment at the campsite beauty spa
For the more active, Esterel Caravaning offers:
• Hiking
• Mountain biking or electric mountain biking in the Esterel mountains
• Scuba diving in the crystal blue waters of the Mediterranean
• A Golf course in the nearby Valescure area.
For the more athletic, Esterel Caravaning offers:
• Glutes ABS
• Strength Training,
• Stretching,
• Body shaping,
• Pilates
• Circuit training,
• Beach volleyball, basketball, football, tennis, water aerobics…
We all like to have fun & we all have a blast on our holidays at a 5-star campsite in Saint-Raphaël!
And for lovers of the sea and the beach, Saint-Raphaël offers 28 amazing beaches to discover & explore!
Esterel Caravaning, First 5-Star Campsite on the French Riviera
In France, camping holidays are now available in 5-star luxury. And among the winners, Esterel Caravaning was the first campsite on the French Riviera to receive the coveted "5-star" rating.
Since July 1, 2010, the Ministry of Tourism has introduced a new classification grid for outdoor accommodation in France. This grid includes 204 criteria, compared to the previous 103. New for 2022: qualitative criteria are now taken into account (presence of a swimming pool, a wellness area, cleanliness, practice of foreign languages by the staff, etc.). This new ranking focuses on three main areas: equipment and facilities, customer services, accessibility and sustainable development.
Esterel Caravaning was thus the first luxury campsite on the French Riviera to receive this distinction in 2011. This was the result of 35 years of hard work by our entire team. It also represents a logical development for our establishment, which has, for many years, been tailored to meet the needs and luxury services that our guests demand.
Since then, we have been improving and transforming our campsite to retain our 5-star status & to continue to satisfy our customers. Reclassified as a 5-star campsite for the second time in 2016, the 2021/2022 reclassification is in progress.
Esterel Caravaning was also voted Best campsite in Europe by Germany & the Netherlands! For the 6th consecutive year, Esterel Caravaning ranks among the best campsites in Europe & holds the prestigious "ADAC Superplatz" and "TOP Camping" awards.
As a reminder, each year, qualified inspectors from ADAC and ANWB visit more than 2,000 campsites across 37 countries, out of 35,000 European campsites. More than 300 criteria are checked in about ten areas: the number and quality of sanitary facilities, equipment, maintenance and design of shops and restaurants, leisure facilities, aquatic areas, etc.
These evaluation criteria are regularly reviewed and adapted to current trends in the outdoor hospitality industry.
Esterel Caravaning is proud to have been bestowed this distinctive honour.