Esterel Caravaning Campsite in Agay/Saint-Raphaël
DISCOVER THE ESTEREL ON THE FRENCH RIVIERA
Your campsite on the French Riviera, the sun always shining, the red rocks of the Esterel massif, the Mediterranean Sea… No doubt, you are in the Var, in the south of France and more precisely at the campsite Esterel Caravaning! Classified 5 stars since 2011, Esterel Caravaning is the first campsite in the Var to receive this distinction.
Enjoying an idyllic location between Fréjus and Cannes in the Provence-Alpes-Côte d´Azur region, our establishment is located in Agay-Saint-Raphaël, near the Dramont. An ideal place for family vacations, in a paradisiacal setting, between the Mediterranean and the Esterel mountains.
The Esterel Caravaning campsite covers an area of ​​19 hectares and offers 495 pitches: 331 mobile homes and 164 pitches for camping-cars and caravans. Book your stay without further delay on a unique site on the French Riviera, 10 minutes from the beach! And enjoy a water park on site with 5 swimming pools, slides, pentagliss, and a fine and private sandy beach!
Halfway between Cannes and Saint-Tropez, our seaside campsite is the perfect starting point to discover all the riches of our Esterel Côte d'Azur region, both on the shores of the Mediterranean and in the hinterland. and green Provence.
Campsite between Esterel and Mediterranean Sea
AN EXCEPTIONAL PLACE BETWEEN NATURE AND THE SEASIDE
And if true luxury were in Nature and Space … Located in the emblematic Var forest, the Esterel massif, our campsite is nestled in a Provencal pine forest bordered by the scrubland. In addition to the scents of pines and other Mediterranean species, the song of the typical cicadas of Provence is added to complete a colorful picture. Stay in a veritable green setting a few minutes from the seaside of Agay-Saint-Raphaël, between Fréjus and Cannes.
Unmissable in our region, the Esterel massif and its bright red mountains give the landscape and your stay a special charm. A real little place of paradise, you will find the beach and many rivers where you can swim.
Agay is one of the eight districts of Saint-Raphaël. Imbued with a chic and relaxed atmosphere, for your holidays it is the ideal place to have a drink and eat in a restaurant with a sea view, with your feet on the sand to relax on our beautiful sandy beaches of the Mediterranean.
Your fondest family memories on the Esterel Côte d'Azur territory, between the seaside of Agay-Saint-Raphaël and the glowing Esterel mountains… If you want to swim in crystal clear water, meet dolphins on your paddle … it's HERE and nowhere else !
Campsite rentals in Saint-Raphaël
LUXURY ACCOMODATIONS ON THE VAR COASTLINE
What could be nicer than meeting up with family or friends in the evening on the terrace of your accommodation and watching the sunset over the Esterel massif?
At Esterel Caravaning, there is necessarily an accommodation to satisfy you and make you happy! Our selection of accomodations adapts to the different tastes, expectations and desires of each family. We offer a choice of 19 categories of mobile homes from 16 m² to 80 m² which can accommodate up to 8 people on pitches of 100 to more than 500 m2.
In addition to classic comfort furniture (appliances, covered terraces, air conditioning, television and wifi), other top-of-the-range equipment is added, such as sunbeds, a solarium terrace, a private hot tub and even a private swimming pool for VIP categories (VIP Luxe and VIP Plage). A pleasure at all times!
New for 2022: A new 500 m² site with 3 new mobile homes, a private swimming pool 7 m long, bordered by a beach and palmtrees! Welcome to the VIP Plage!
The atypical configuration of our establishment is unfortunately not suitable for people with reduced mobility, we have obtained an exemption.
With a choice of 8 categories of pitches from ​​80 m² to 280 m².
Our caravan and motorhome pitches allow you to enjoy a natural setting in Provence-Alpes-Côte d´Azur.
Between the Esterel massif and a few kilometers from the seaside, enjoy a space with all the modern comforts of a 5-star campsite.
All equipped with water, electricity and mains drainage, some also have a dishwasher, a refrigerator or a washing machine, but also high-end options such as a private bathroom, a kitchenette and private hot tub.
Discover advantages and special offers for your stay in mobile home or camping-car/caravan pitch
Pour vos envies de soleil, pour vous décontracter, nous vous proposons une Formule Weekend (2 nuits) du 09/04 et le 09/07 et entre le 27/08 et le 24/09/2022
See the offer »
Between 09/04 and 09/07 and between 27/08 and 01/10/2022, the Special Senior Couples reduction is applied to mobile home rentals and for a minimum stay of one week for a couple Seniors 65 and over:
See the offer »
The unmissable offer to extend your holiday! Between 09/04 and 10/07 and between 28/08 and 01/10/2022, spend 4 weeks with your caravan or motorhome at Esterel Caravaning for the price of 3! Valid on all
See the offer »
LUXURY CAMPSITE IN SAINT-RAPHAEL
5 STAR SERVICES AND INFRASTRUCTURES
At Esterel Caravaning, the LAROCHE family has welcomed you with open arms since 1976 and invests every day in this splendid campsite in Agay-Saint-Raphaël so that your nights in the south of France are exceptional, and your holidays unforgettable!
In addition to the aquatic area with its 5 slides, 4 pentagliss and a white sand beach, many services and equipment are available on site for 5-star holidays: infrastructures for the practice of various sports, catering and wellness area are waiting for you to alternate activities and moments of relaxation during your stay.
You will understand, whether you are a fan of lazy vacations, sports activities or tourist discoveries, the entire Esterel Caravaning team is there to offer you wonderful moments of relaxation and family fun in the Var.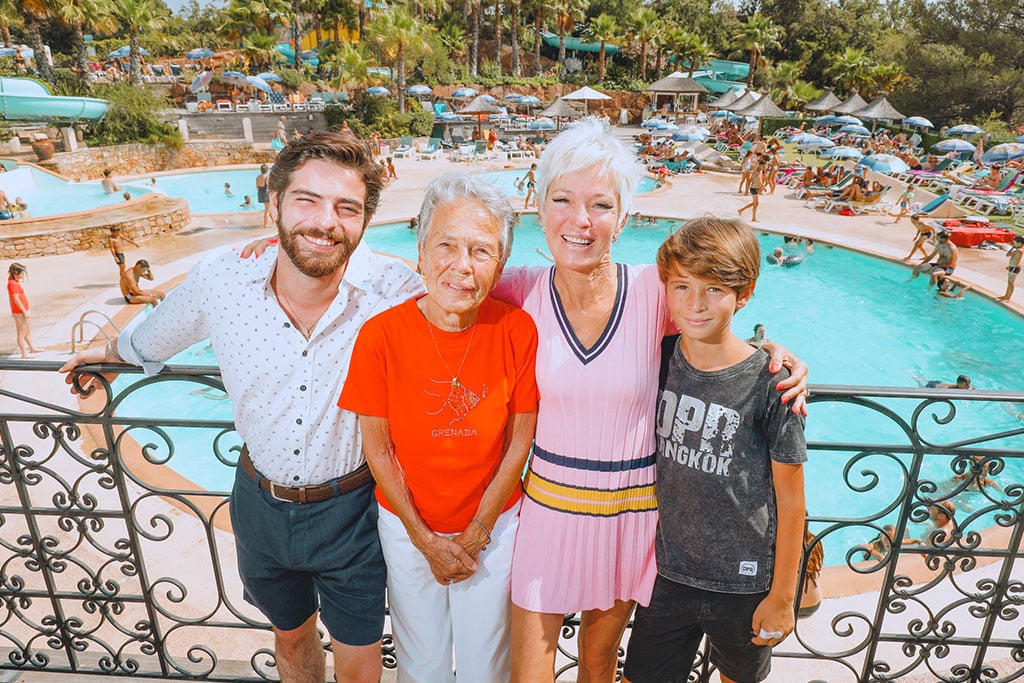 Esterel Caravaning is the place where you can combine fun and relaxation in a family atmosphere. By booking accommodation in our establishment, take advantage of the swimming pool area and the water park. Discover 5 pools, 5 slides including a Black Hole, 4 pentagliss as well as 1000 m² of white sand beach and palm trees!
Central point of our campsite, the aquatic area has two heated swimming pools and an indoor swimming pool for children. Bathe in a real exotic setting among palm trees. After moments of relaxation on the many sunbathing facilities on our beach, make way for sliding with multiple slides for young and old.
DREAM ABOUT YOUR NEXT HOLIDAY IN ONE OF THE MOST BEAUTIFUL CAMPSITES IN VAR
WEBCAM : ESTEREL CARAVANING LIVE !
Discover your vacation spot, watch the weather forecast or simply admire your favorite campsite! The WEBCAM Live of Esterel Caravaning invites you to have an eye on the French Riviera from home and to dream about your next stay. 
We are waiting for you ! Goodbye !