A Campsite with dedicated water park on the French Riviera
Please note, due to the ongoing health crisis, certain services and facilities may be closed or certain hours modified. Certain activities may also be cancelled.
Please inquire at Reception.
In accordance with French hygiene legislation, board shorts ans shorts are prohibited inside the Water Park.
A 10,000 m² French Riviera water park
Take advantage of our amazing 10,000 m² water park with 4 slides, 4 racer slides and 5 swimming pools. All nestled in our 5-star campsite in the heart of the Esterel mountains on the French Riviera.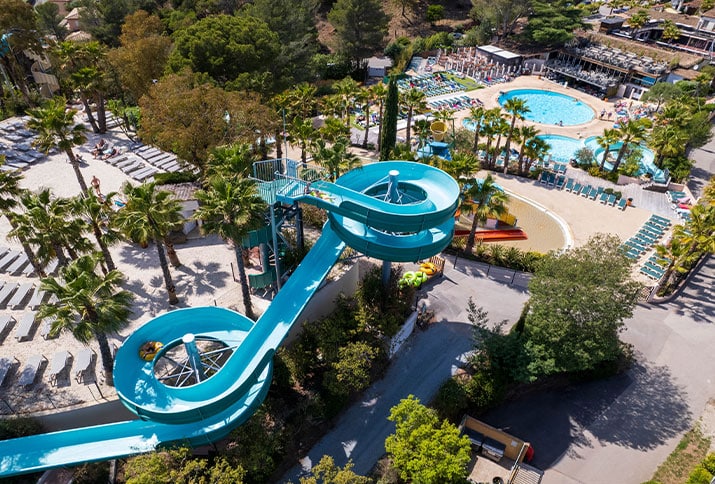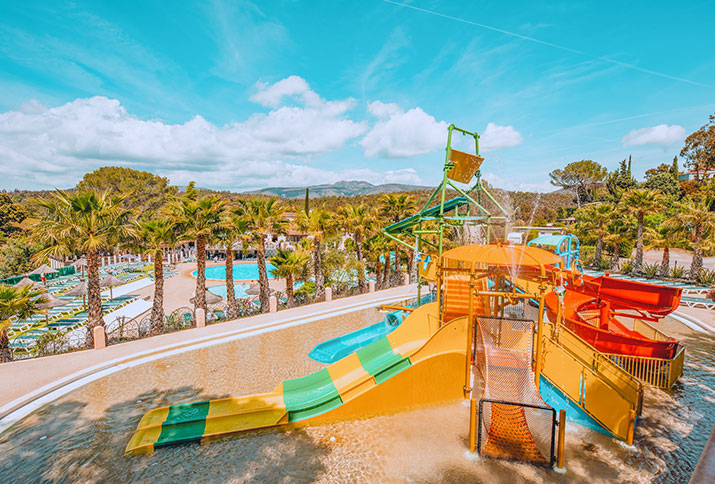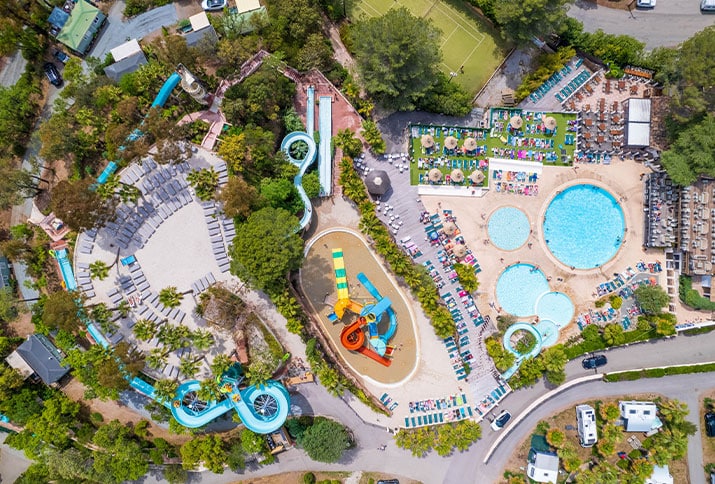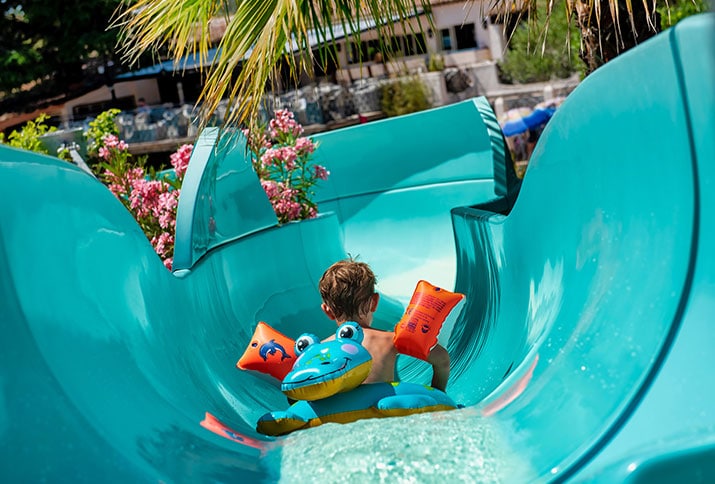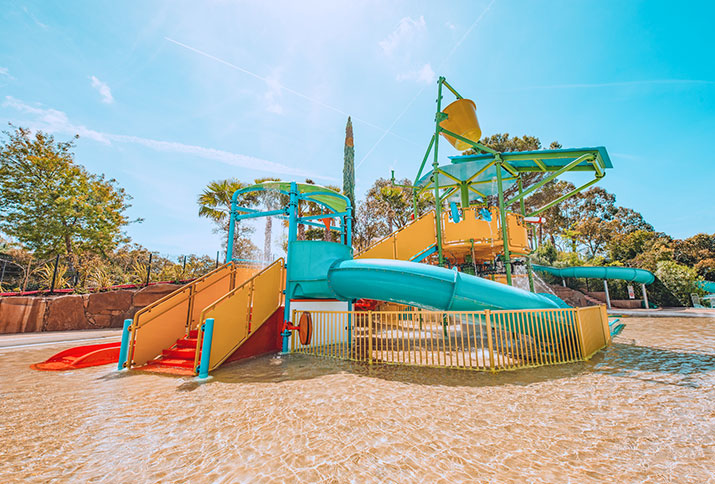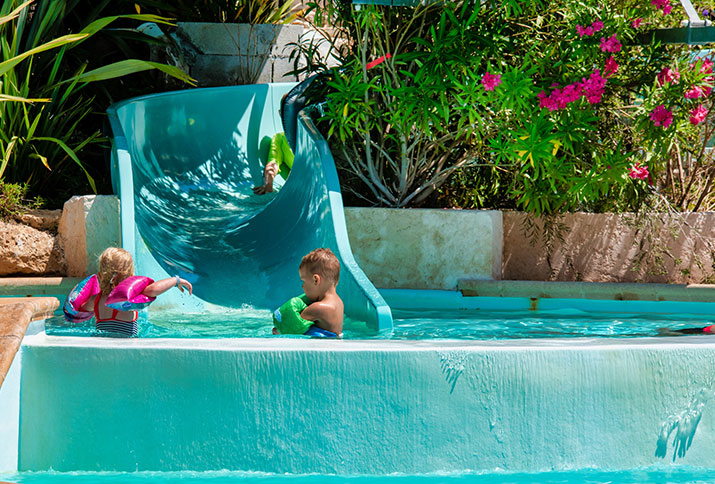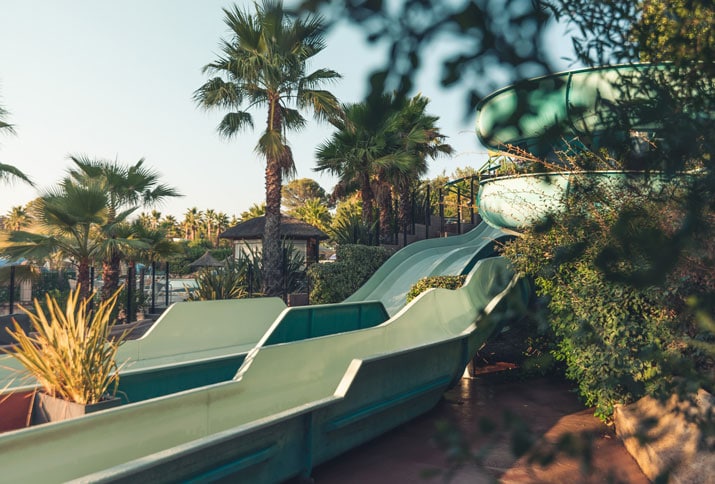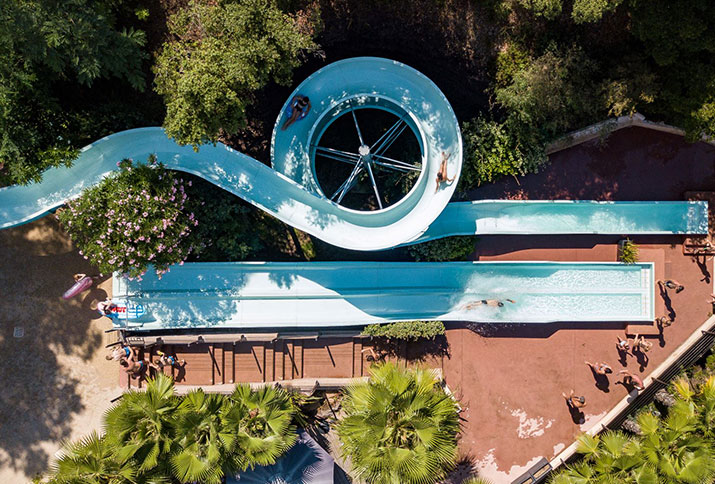 It is hot on the French Riviera & the water can be enjoyed in all its forms! At the Esterel Caravaning campsite, we invite you to refresh, relax and have fun with your family, as a couple or with friends in our 10,000 m² aquatic area.
Our French Riviera campsite offers a true water park experience with its heated swimming pools. Complete with slides, racer slides, water games and a water play area. All this is set in a dream environment, with an exotic atmosphere surrounded by palm trees.
Our water park includes:
– 5 swimming pools, including 2 heated swimming pools (except in July-August)
– A fun aqua play area with 2 slides and 1 multi-slide with 2 tracks.
– A long slide with a 72 m loop as well as two wide racer slides
– A toboggan area for children
– A Black Hole slide
– A covered paddling pool
Something to delight the whole family!
The water park is surrounded by a magnificent wooden terrace as well as a solarium for basking in the sun … or if you prefer to stay cool, enjoy our deckchairs in the shade of palm trees.
After relaxing, it's time for fun! Enjoy our many sporting activities and campsite swimming pool entertainment: water polo, water aerobics, water games, mini-trampoline…. Or try your hand at the many campsite sports offered: fitness, volleyball, tennis, squash … Or you can go discover the rest of what the French Riviera has to offer, such as mountain biking or hiking in the Estérel mountains, excursions, cultural visits and so much more. That's the joy of being on a 5-star camping holiday on the French Riviera!
The Esterel private beach
Esterel Caravaning Beach: 1000 m² of white sand & hundreds of dedicated deckchairs. All of which are designed to meet all your needs. They all come together to form our iconic white sandy beach: Esterel Plage! This 1000 m² space is both a place of Zen leisure and relaxation.
It is a total game-changer for the whole family! Plus, the scenery is unparalleled.
In fact, with its exotic and tropical setting, in the shade of palm trees, you can fully immerse yourself in your holidays in the south of France here in Saint-Raphaël.