Esterel Caravaning Campsite in Agay/Saint-Raphaël
DISCOVER THE FRENCH RIVIERA
& THE ESTEREL CÔTE D'AZUR REGION
Discover our campsite on the French Riviera, with the sun always shining, the red rocks of the Esterel mountains, the Mediterranean Sea… There can be no doubt: you are in the south of France, you are on the French Riviera… Best of all, you are at the Esterel Caravaning campsite! Classified as a 5-star site since 2011, Esterel Caravaning was the first campsite in the Var to receive this distinctive honour.
Enjoy an idyllic location in the heart of the French Riviera nestled between Cannes & Saint-Tropez in the Provence-Alpes-Côte d´Azur region, located in the town of Agay near Saint-Raphaël. An ideal place for a family holiday, in a beautiful setting, between the Mediterranean and the Esterel mountains.
The Esterel Caravaning campsite covers an area of 19 hectares and offers 495 pitches: 331 mobile homes and 164 pitches for campervans & caravans. Book your stay now to enjoy a unique location in the heart of the French Riviera, less than 10 minutes from the Mediterranean beaches! And enjoy an on-site water park with 5 swimming pools, water slides, racer slides, and a lovely white sandy beach!
Halfway between Cannes and Saint-Tropez, our seaside campsite is the perfect starting point to discover all the joys of the amazing Esterel Côte d'Azur region, both on the shores of the Mediterranean Sea as well as at the foothills of the Alpes & the lush colourful fields of Provence.
Campsite between Esterel and Mediterranean Sea
AN IDYLLIC LOCATION NESTLED BETWEEN NATURE & THE SEASIDE
Experience the pinnacle in luxury, complete with natural & spacious surroundings… Located in the emblematic forests of the French Riviera & the Esterel mountains, our campsite is nestled in a Provençal pine forest bordered by scrublands. In addition to the scents of pine trees & other Mediterranean species, the song of the local Provençal cicadas helps to complete a wonderfully colourful picture. Stay in a picturesque setting less a few minutes from the seaside of Agay, Saint-Raphaël, and la plage du Dramont, between Cannes & Saint-Tropez.
Standing as a true icon of our region, the Esterel mountains and their bright red peaks make for a very special charming backdrop, both for the local landscape & your stay. A true slice of paradise, where you will find beaches as well as many rivers where you can swim or just dip your toes in.
Agay is one of the eight districts of Saint-Raphaël. Blessed with a chic and relaxed atmosphere for your holidays, it is the ideal place to have a drink and eat in a restaurant with a sea view. Or dip your feet in the sand to relax on the beautifully iconic sandy beaches of the Mediterranean.
Create your fondest family memories in the Esterel Côte d'Azur region, between the seaside coastlines of Agay & Saint-Raphaël as well as the glowing Esterel mountains… If you want to swim in crystal clear water, you might even meet some dolphins on a stand-up paddleboard… All this is HERE and nowhere else!
Campsite rentals in Saint-Raphaël
LUXURY ACCOMMODATIONS
ON THE FRENCH RIVIERA COASTLINE
What could be nicer than meeting up with family or friends in the evening on the terrace of your accommodation and watching the sunset over the Esterel mountains?
At Esterel Caravaning, we have a variety of accommodations available to satisfy your needs and make you happy! Our accommodation selection adapts to each family's different tastes, expectations and desires. We offer a choice of 19 categories of mobile homes from 16 m² to 80 m² which can accommodate up to 8 people on pitches of 100 to more than 500 m2.
In addition to our classic comfort amenities (appliances, covered terraces, air conditioning, television and Wi-Fi), other top-of-the-range amenities have been added, such as sunbeds, a solarium terrace, a private hot tub and even a private swimming pool for VIP categories (VIP Luxe and VIP Plage). Making for a very pleasurable experience for all!
New for 2022: A new 500 m² accommodation with 3 new mobile homes, a 7 m long private swimming pool, complete with your private beach & palm trees!
Welcome to the VIP Plage!
Unfortunately, our establishment's atypical topography is not suitable for guests with disabilities / reduced mobility. We, therefore, have obtained an exemption.
With a choice of 8 categories of pitches from 80 m² to 280 m².
Our caravan and motorhome pitches allow you to enjoy the perfect natural setting right here in the heart of the French Riviera.
With the adjacent Esterel mountains & the seaside being just a few kilometres away, enjoy the perfect pitch with all the modern comforts of a 5-star campsite.
All of our pitches are equipped with water, electricity & mains drainage, some are also equipped with dishwashers, refrigerators or washing machines, plus a few high-end options such as private bathrooms, kitchenettes and even private hot tubs.
All of these come together to create the pinnacle of luxury camping holidays.
Discover our special offers for your next stay, whether it's in a mobile home or a campervan / caravan pitch
For those who dream of sunshine and to help you relax, we offer you a Weekend Deal (2 nights) from 23/03 to 01/07 & from 01/09 to 28/09/24. Valid for all mobil-homes categories except those
See the offer »
From 23/03 to 01/07 & from 01/09 to 28/09/24, a 20% Senior Couples Discount will be applied for mobile home rentals with a minimum 1 week duration for Senior couples aged 65 and over. Offers
See the offer »
The unmissable offer to extend your holiday! Between 01/04 and 09/07 and between 27/08 and 30/09/2023, spend 4 weeks with your caravan or motorhome at Esterel Caravaning for the price of 3! Valid on all
See the offer »
LUXURY CAMPSITE IN SAINT-RAPHAEL
5-STAR AMENITIES & FACILITIES
At Esterel Caravaning, the LAROCHE family has welcomed you with open arms since 1976 and invests every day in this splendid campsite in Agay / Saint-Raphaël so that your nights in the south of France are exceptional, and your holidays unforgettable!
In addition to the aquatic area with its 5 slides, 4 racer slides and white sandy beach, we offer a variety of amenities and facilities on-site to create the ultimate 5-star holiday. This includes but is not limited to our sporting facilities, a variety of catering options, and a wellness area. All of these await you & will allow you to alternate between different activities & relaxation breaks throughout your stay.
Whether you are a fan of lazy holidays, sports activities or tourist discoveries, the entire Esterel Caravaning team is here to offer you wonderful moments of relaxation and family fun on the French Riviera.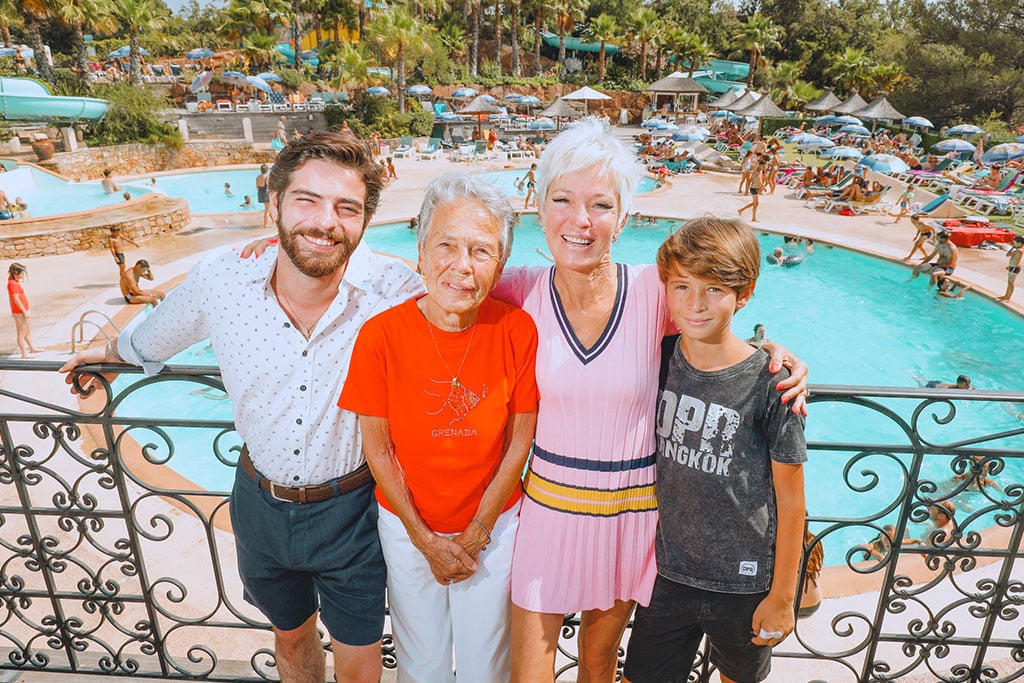 Esterel Caravaning is a place where you can combine fun and relaxation in a family atmosphere. By booking accommodation in our establishment, take advantage of the swimming pool area and the water park. Discover 5 pools, 5 slides including a Black Hole, 4 racer slides as well as 1000 m² of beautiful white sandy beach bliss & a grove of stunning palm trees!
Acting as the hub of our campsite, the aquatic area has two heated swimming pools and an indoor swimming pool for children. Bathe in a real exotic setting among palm trees. After relaxing on one of our many sunbathing facilities on our beach, be sure to take some time to dive down one of our many water slides. All of these have been designed both for our younger guests and those who might just be young at heart.
DREAM ABOUT YOUR NEXT HOLIDAY IN ONE OF THE MOST BEAUTIFUL CAMPSITES ON THE RIVIERA!
WEBCAM : ESTEREL CARAVANING LIVE !
Discover your favourite holiday location, watch the weather forecast, or admire your favourite campsite! The Esterel Caravaning Live WEBCAM invites you to take a peek at what it's like to be on the French Riviera all from the comfort of your own home & to indulge your wanderlust about your next stay with us.
We look forward to welcoming you! See you soon!
Esterel Caravaning

Note moyenne sur 3371 avis

<!– Google Tag Manager (noscript) –> <!– End Google Tag Manager (noscript) –>