The Saint-Raphaël markets
Everywhere in France, but particularly in Provence, exploring a market is always a unique experience that allows you to immerse yourself in the local culture.
Wandering among the stalls, one can not only buy good seasonal products but also discover the specialities of the region and meet the locals. Around our campsite in Saint-Raphaël, you will find several markets, all on a human scale.
The atmosphere is always friendly and good-natured. To fully enjoy the experience, just let yourself be guided by the colours and scents of Provence…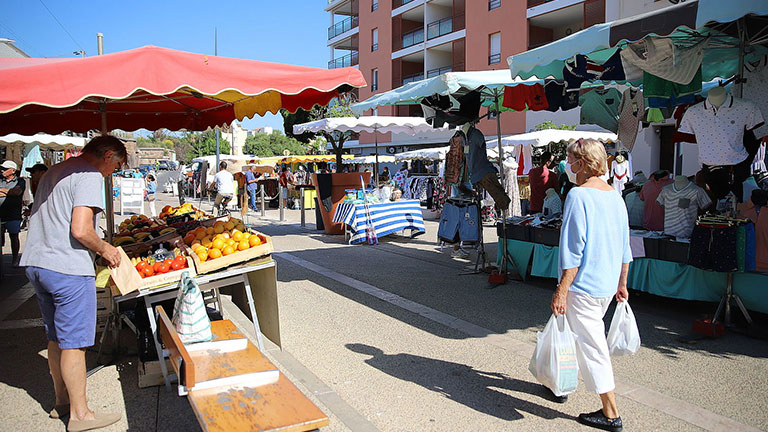 The Victor Hugo market
The Victor Hugo market is a compact covered market with just ten stalls. It takes place at Place Victor Hugo from Tuesday to Sunday from 7 AM to 1 PM, under a new hall. You can buy food there, as well as various types of flowers & plants.
Boulouris market
Located on the Saint-Jean Esplanade, near the port of Boulouris, the Boulouris market is the largest in Saint-Raphaël. It takes place every Monday morning from 7 AM to 1 PM as well as Thursday in July and August. With over 60 stalls, you can find many products from local vendors. Including fruits, vegetables, Provençal spices, lavender, olive oil, clothes and objects. Some are even made locally.
The Republic market
Occupying a larger footprint than the one held at Place Victor Hugo, this partially covered market is at Place de la République. More than a dozen merchants sell fruits and vegetables, plants, flowers, cheeses, cold meats, delicatessen products, fish and seafood... This market takes place all year round from Tuesday to Sunday from 7 a.m. to 1 p.m. It is also open on Mondays from the beginning of May to the end of September. Like Les Halles, you can eat on-site in a very friendly atmosphere.
Agay market
The Agay market is a Provencal market taking place all year round every Wednesday morning from 8 AM to 1 PM in Agay. Agay is the Saint-Raphaël district surrounding Agay beach, more exactly along Boulevard de la Plage (also known as Place Gianetti). You can find everything across some forty stalls: fruits and vegetables, cold meats, clothes and various products and utensils, including toys.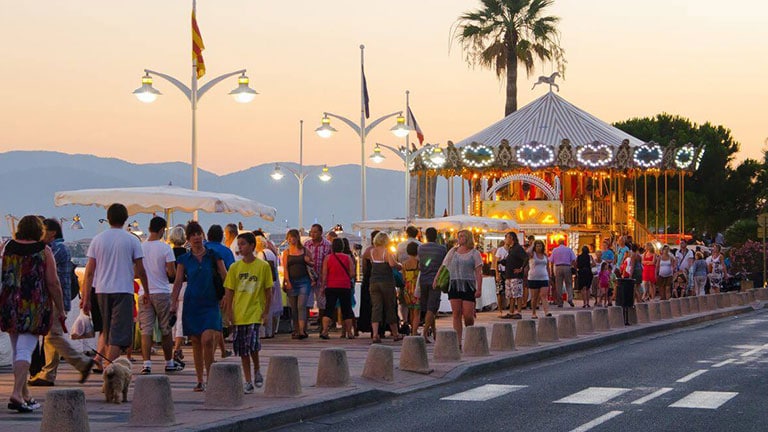 The night market
Every evening from 7:30 PM to 12:30 AM, a pleasant night market is held on the promenade of Lattre de Tassigny from early July to early September. Handicrafts and manufactured products are bought there. Visiting the Saint-Raphaël night market is also an opportunity to meet the artisans, painters and sculptors of the region while enjoying the fresh evening air by the sea.
Agay night market
In summer, Agay also hosts a night market, on the "Boulevard de la Plage", every Saturday and Sunday from 7 PM to midnight. It is held in July and August. This market is mainly tailored towards fans of arts & crafts.
The flea market
This professionally organized market takes place every Tuesday from 7 AM to 6 PM at Place Pierre Coullet, in the city centre. It attracts bargain hunters and other lovers of old objects. It's a charming place where you always find something to take home...
Saint-Raphaël Arts & Craft Meetings
This unmissable event for any art lover takes place every Saturday, Sunday as well as during bank holidays from 8 AM to 6 PM, except during the winter & during the peak summer season. It's held along the Promenade de Lattre de Tassigny in the city centre and welcomes many local artists who come to exhibit and sell their works.