Massage Var, Time to Relax During Your Stay at our Campsite
Come and recharge your batteries for the weekend in the magical Var, a beautiful department in the south of France! This department is an emblem of the exceptional beauty of the Provence-Alpes-Côte d'Azur region with charming towns and cities. Saint-Tropez, Toulon and Bandol offer great seaside holidays, but Saint-Raphaël is not to be outdone. Our beautiful open-air hotel awaits you there, Esterel Caravaning campsite. Nestled between Fréjus and Cannes, our 5-star establishment invites you to an idyllic setting. It's the ideal holiday destination for families, couples and groups of friends looking to relax and get away from it all. Be sure to visit the campsite spa for luxury massage services. Head to Saint-Raphaël for the ultimate relaxation experience!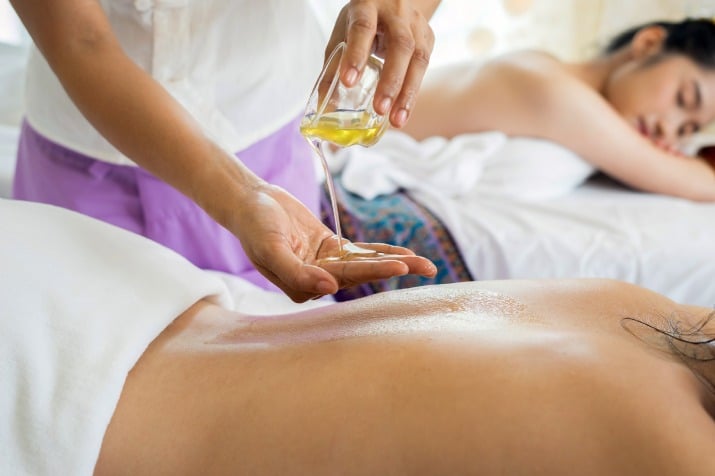 Why Get a Massage at Esterel Caravaning Campsite?
There's nothing like a good Var massage to get rid of the stress you've built up all the week. You'll recharge your batteries, boost your health and leave your skin feeling softer, all in the heavenly surroundings of Esterel Caravaning campsite. Our 5-star open-air hotel is set in the Esterel Mountains, in the emblematic forest of the Var. Can you imagine it? Pine trees as far as the eye can see, the Mediterranean Sea on the horizon, the PACA sky in the background. Gorgeous! You can take advantage of all this when you rent a mobile home at our charming establishment. You'll also have full access to our star-rated amenities, including the swimming pool, spa and other relaxing activities…
It's true, there's no shortage of spas in the Var. But our spa is located close to the fully-equipped mobile homes and luxury amenities of Esterel Caravaning campsite. That way, you can enjoy a relaxing, beautiful day near your accommodation. On-site, you'll find relaxing massages and a full-service spa with other body and facial treatments. So, are you ready for a moment out of time, away from everyday stress?
Our professional therapists offer a range of packages. They'll be able to guide you if you don't know which Var massage to choose. In addition to our massages, why not visit the sauna, take a dip in the Théma bath or a book facial treatment for glowing skin… Whether you come alone, as a couple or with your family, you'll leave feeling rejuvenated and relaxed after your visit to the spa at our 5-star campsite in Agay-Saint-Raphaël. Add to that the peaceful atmosphere and you'll feel perfectly relaxed.
As you can see, your stay at Esterel Caravaning campsite will combine holidays and wellness in the exceptional panorama of the south of France. Between the 5-star campsite swimming pool and our spa, you can enjoy a relaxing and peaceful holiday and release all your stress with a good Var massage . But which massage should you choose? First take a look at our offers:
Swedish massage reactivates your energies. This is one of our guests' favourites, as they say in their online reviews. This massage will revive you and soothe your mind while eliminating toxins. The therapist uses special honey to moisturise and soften your skin.
The Hawaiian Lomi Lomi massage frees your blocked energies using large kneading movements. Better still, this treatment transports you with Tahiti Tiaré monoi oil. This is a traditional, emblematic product of beauty rituals.
Another type of Var massage that our guests love is the Californian massage. What does it do? It restores your energy, freeing you from fatigue. It also relaxes and relieves tension using Taraho'i Garden Oil, an exotic concentrate developed by Laboratoires Mansard.
As its name suggests, Deep Tissue massage works deep down into your tissues. This relaxes your muscles and releases knots. The therapist massages you with camphor oil, which is known to soften and restore muscle elasticity.
The tension relief massage is also gaining fans, just for the name alone. This is the right option for you if you have headaches or back pain. A deep massage using passive stretching and Tiger Balm, the ultimate tension reliever.
We offer you a custom package with the Esterel Caravaning signature massage. It combines beauty and relaxation. With Soirée d'été sur la French Riviera oil from Laboratoires Mansard, your skin will take on a golden glow.
Prenatal massage is for pregnant women, of course. Using sweet almond oil, this massage hydrates, nourishes and revitalises your skin…
Your choice of Var massage will depend on the benefits you seek.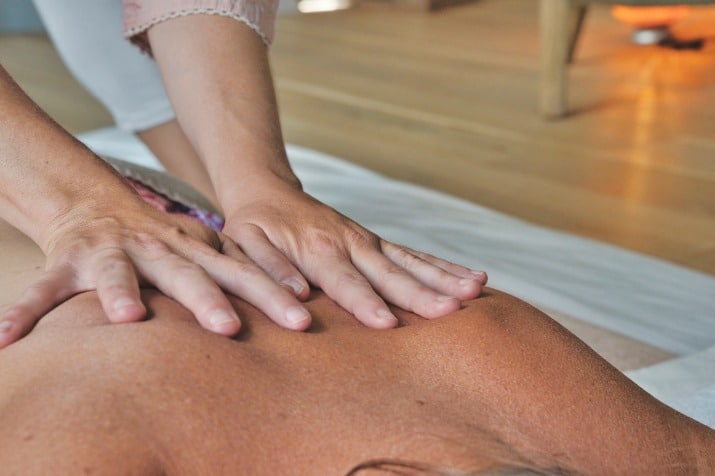 Looking to restore the softness of your skin, de-stress or relieve back pain? Treat yourself to a soothing massage at the Esterel Caravaning spa in Agay-Saint-Raphaël! Facial and body treatments are available from early April to late September. You don't need to book online; you can make an appointment directly on-site.
As a guest at our 5-star open-air hotel, you can choose from a range of packages for your Var massage:
A full massage costs between 80euros per person (for a 55-minute session) and 115euros per person (for an 85-minute massage).
If you want to target a particular part of the body, you'll pay just 45euros per person for a 25-minute session.
Special massages such as the tension relief or the Esterel Caravaning signature are available from 90euros per person for a 55-minute session (80euros for prenatal massages).
Other treatments await you in our spa: balneotherapy (40 to 55euros), hydrojet (45euros), rituals (45 to 195euros), sauna (28euros), hammam (28euros), and more.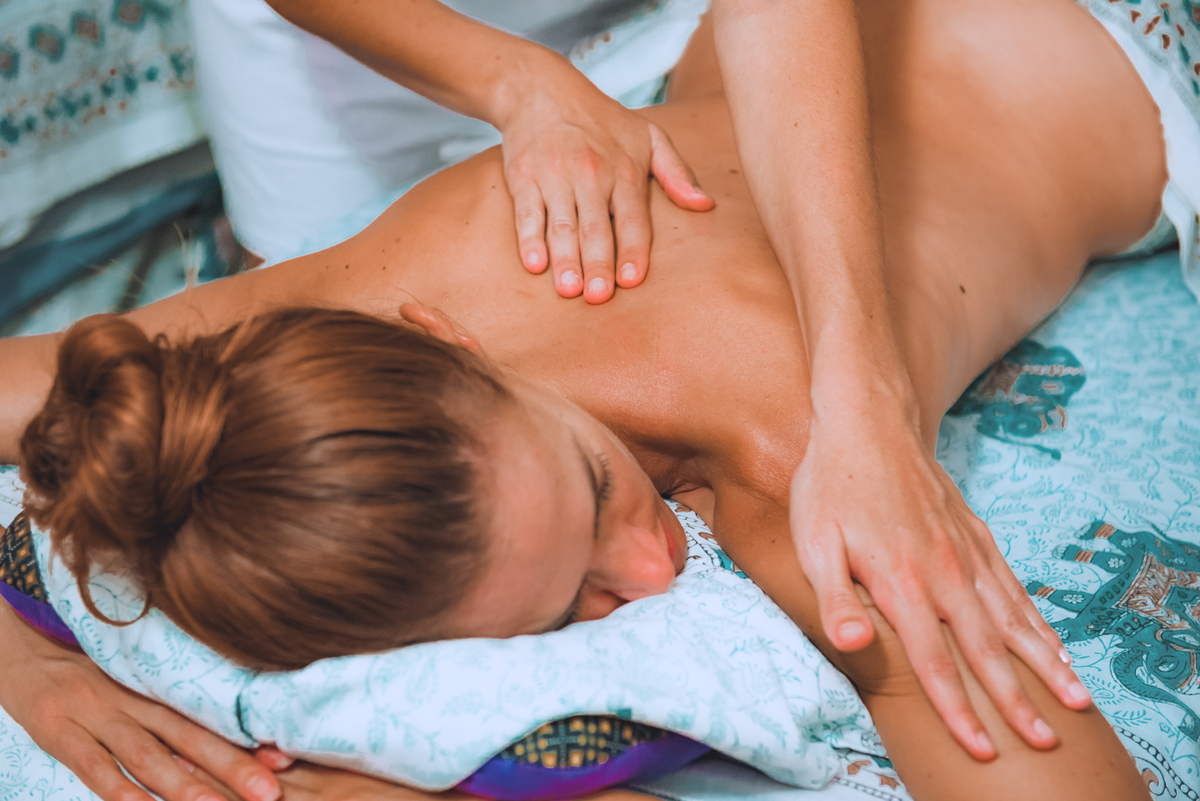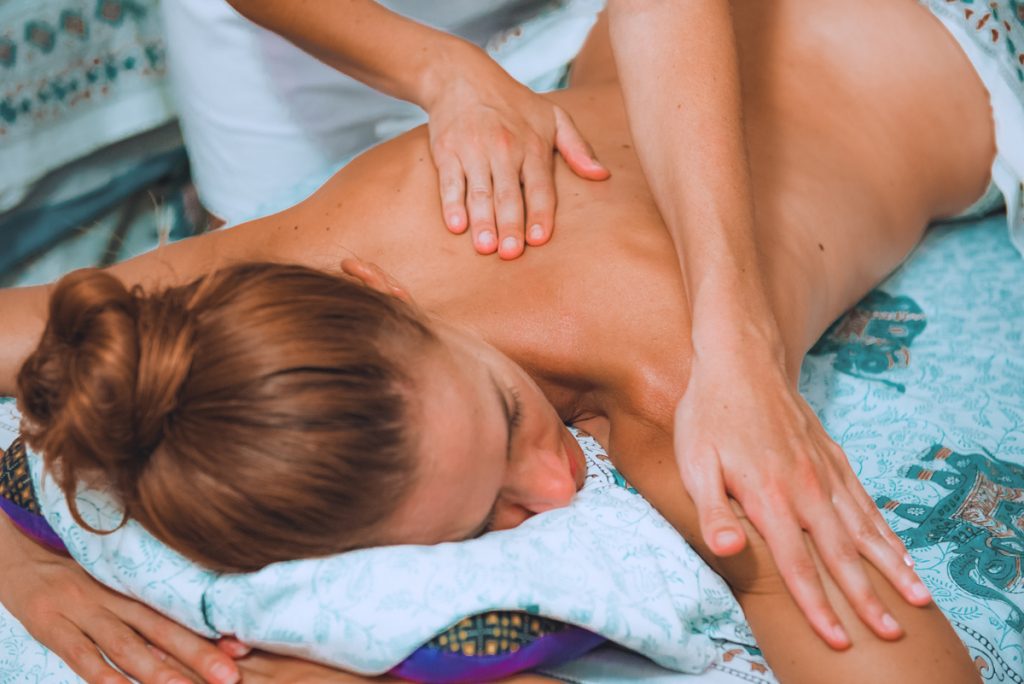 The Massage Experience at Esterel Caravaning Campsite
Esterel Caravaning campsite is the perfect place to relax with family, friends or your partner surrounded by the breathtaking views of Provence-Alpes-Côte d'Azur. Whatever type of Var massage you choose, the setting will be exceptional. For the ultimate relaxation experience, we recommend a massage at our luxury spa. Good news, we've renovated and expanded the spa just for you. You now have a new, refined beauty centre.
However, you can also remove all traces of stress outdoors if you wish. Some choose the poolside to combine massage and sunbathing. Others go for the Zen attitude with a relaxing massage in the garden… In short, we follow you.
Dedicated to your beauty and well-being, our massage therapists and beauticians are true professionals. You can relax and unwind in this welcoming setting. Thanks to their expertise and super-soft massage tables, you'll enjoy an extraordinary escape, enhanced by a gentle atmosphere. All you have to do is let go and relax.
The spa is a great way to take a break during your holiday at our 5-star campsite in Agay-Saint-Raphaël. In addition to the Var massage, we have all the treatments you need to recharge your batteries at our luxury spa!