Couple's Massage in the Var: Treat Yourself at Our Campsite
Will you be staying at our campsite? This is your chance to discover our spa and try a couple's massage in the Var, near Fréjus!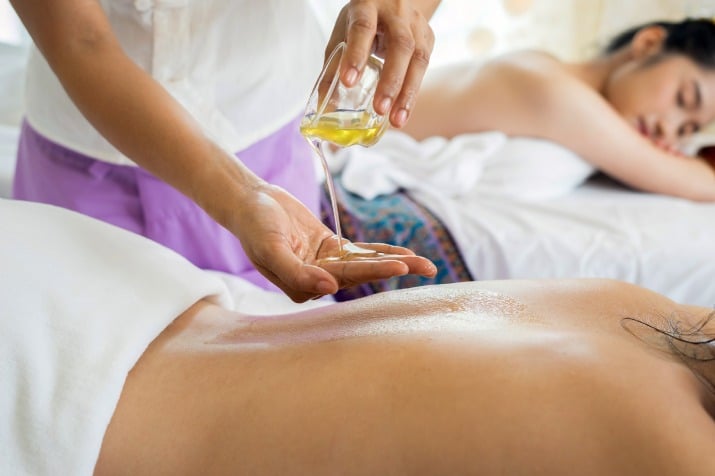 Pamper Yourself at Our Var campsite
Holidays are an important time for self-care. During this time of rest and rejuvenation, it's important to clear your mind and pamper your body. You'll come away feeling relaxed and fully recharged for the return to work and everyday life!
Make the most of your stay at our campsite in the Var in Agay-Saint-Raphaël, near Fréjus, to take some time out for yourself. Welcome to our spa, a space focused entirely on wellness. In this peaceful haven of relaxation, we offer a full range of treatments and massages to relax your body, give you a healthy glow, purify your skin and relieve tension…
Wellness, relaxation and beauty are on the menu at the spa at our campsite in the Var!
Are you staying at our Var campsite as a couple or with your family? It's the perfect time for the two of you to take a much-needed break in our spa. If you have children, take advantage of our kids' club and leave them in the capable hands of our energetic counsellors. The spa at our campsite in the Var offers a variety of couple's treatments, including massages, which our guests appreciate.
A Couple's Massage to Awaken Your Senses at Our Var Campsite Spa
Did you have a busy start to your holiday between packing, the drive, settling into your mobile home and your first tours and activities on-site? Now it's time for a break as a couple with a massage in the Var. And what better way to relax than with a massage at our spa? Stress reduction, muscle relaxation, improved blood circulation… there are many benefits of massage! You can get any of our massages as a couple.
Have you decided to treat yourself to a couple's massage at our Var campsite spa? All you have to do is choose the massage that's right for you. It's not going to be easy to choose, because our spa in the Var offers a wide selection of massages. But you can ask our massage therapist for advice; she'll be able to tell you which massage best suits your needs at the time.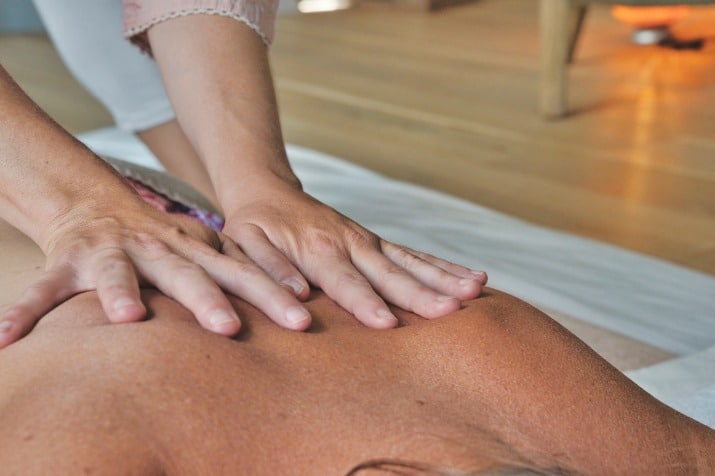 Swedish Massage
Swedish massage combines kneading, stroking and pressure to relax muscles and improve circulation. This treatment relieves muscle tension while promoting relaxation. By the end of your couple's massage at our spa in the Var , your mind will be calm, your body energised and your skin soft and luminous.
Hawaiian Lomi Lomi Massage
Lomi Lomi is a traditional Hawaiian massage technique. What makes it special? It is performed with fluid, rhythmic movements that imitate the waves of the ocean. This massage aims to relax the body, release muscle tension and restore inner harmony. It both relaxes and revitalises. For the ultimate in relaxation, the massage therapists at our Var spa use Tahiti Tiaré monoi oil, a traditional Hawaiian product.
California Massage
The California Massage is a relaxing massage that soothes the body and mind. It features slow, fluid movements, gentle stretching and the use of oil from Le Jardin de Taraho'i by Laboratoires Mansard to activate your senses. These movements soothe muscles, reduce stress and provide a deep sense of well-being. During your couple's massage at our Var spa , your massage therapist will focus on muscle relaxation and overall body relaxation. A classic relaxing treatment!
Deep Tissue Massage
Deep tissue massage focuses on releasing deep muscle tension using firm pressure and slow movements. During the massage, our massage therapist uses camphor oil, known for its refreshing aroma and soothing properties. Our guests who have tried this massage agree: you'll leave our Var spa with relaxed muscles and a very relaxed body.
Tension Relief Massage
Stress, combined with an active lifestyle, creates tension. After this couple's treatment, which focuses on the back and head, two areas that carry a lot of tension, you'll feel lighter and more flexible. Our spa in the Var uses Tiger Balm for this deep massage.
Esterel Caravaning Signature Massage
At our spa in the Var, this massage is 100% adapted to your needs and any aches and pains you may be experiencing. A moment of intense self-care, deep relaxation and stimulation of the senses, enhanced by Soirée d'été sur la French Riviera oil from our partner Laboratoires Mansard. This is the our Var spa's signature massage. Our advice? Try this massage as a couple!
To make the most of your couple's massage at our spa in the Var, go ahead and ask our massage therapists for a recommendation. Do you feel tense? They will provide a firm, deep massage. Are you looking to relax? Then the massage will be very gentle. The massage therapists at our spa tailor each massage to the client's needs.
If you can't decide which couple's massage to try, here's our advice: try several! And if you want to extend the benefits of your couple's massage, try our other beauty and wellness treatments at our spa in the Var: body treatments, detoxifying rituals (combining hammam, sauna, scrub, balneotherapy, and more), facial treatments, hair removal, manicures and pedicures. Ask for the list of treatments and massages at our spa in the Var for information on services, prices and hours.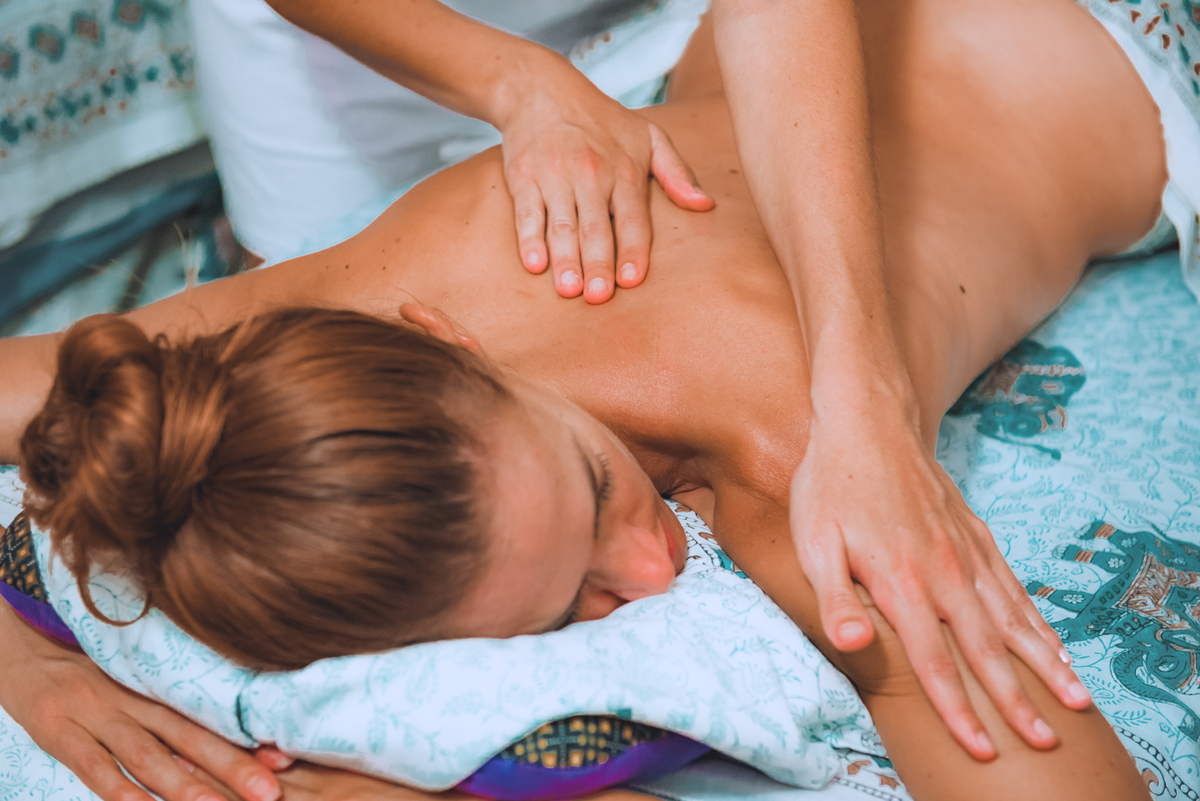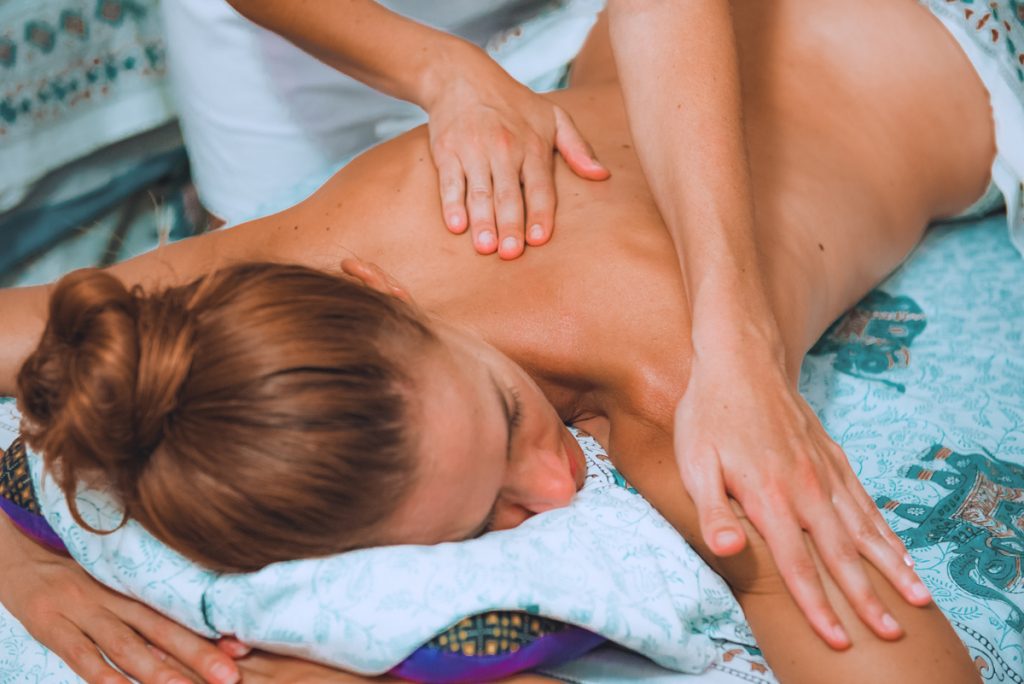 A Couple's Massage at a Var Campsite where Beauty Equals Wellness
Our Var spa is located at our 5-star Estérel Caravaning Campsite in Agay-Saint-Raphaël, not far from Fréjus in south-east France. An outdoor hotel surrounded by nature, located at the foot of the Estérel Mountains, made of magnificent red volcanic rock. More than just a campsite, Estérel Caravaning is a haven of peace and escape, inviting you to recharge your batteries in a beautiful, quiet setting. If you're travelling as a couple or a family, you'll love our ideal seaside location, right near some of the most beautiful hiking trails. This region is perfect for nature lovers and outdoor sports enthusiasts. If you prefer to stay at our campground for a relaxing holiday, you will appreciate our large 1000m² pool area with swimming pool and slides, as well as the wide range of activities organised by our team.
Looking for a couple's wellness getaway in the Var, near Fréjus? Choose a mobile home with swimming pool or private spa. You can relax all day in heated water with a view of the mountains between two couple's massages. Guest reviews are extremely positive!